Welcome to B S Plaza The Finest In Jharkhand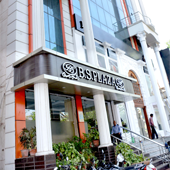 Come alone or bring your family with you, stay here for a night or for weeks, stay here while on business trip or at some kind of conference - either way our hotel is the best possible variant.

Feel free to contact us anytime in case you have any questions or concerns.

The Story of B.S PLAZA started from 2006 onwards . When Managing Director's thought of opening a hotel due to increase demand of Tourist and Corporate Industries in Jharkhand. BS Plaza along with the Jharkhand Govt spread its helping hand to construct this Mid-Segment hotel. Which is know situated in the heart of the city Bistupur Area. One of the posh Location of Jamshedpur. BS Plaza is closed to Corporate Offices & Companies.
Copyright © B.S.GROUP OF HOTELS. All Rights reserved